Report on our visit to Enaikishomi School
January 2022, by Edward and Sandy Elgar
Dear Friends and Supporters

Following the cancellation of two intended visits to Enaikishomi School in 2020 and in 2021, Edward and Sandy were pleased to make it in January of this year.
We are delighted that Enaikishomi has a dynamic new Headteacher, Mr Mathew Munyi who, in just six months, has transformed the running of the School.
He believes in instilling responsibility in the children who are encouraged to become involved in every aspect of school life. He is an excellent manager and has planned weekly meetings with every teacher. Staff morale is now very high. The children appear happy and well motivated.
Involving The Children
Mathew believes strongly that the children should be involved in the management and maintenance of the School. He has established daily rotas of children responsible for cleaning the kitchen, the classrooms and the toilets. There is a similar rota for the teachers to clean their communal showers and toilets!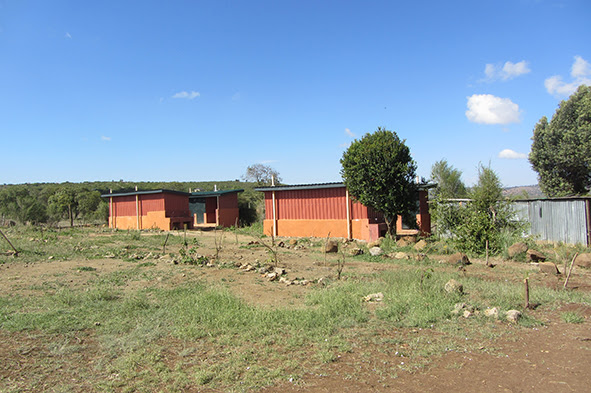 The school and its grounds were spotlessly clean at the time of our visit and for the first time, there were no broken windows
We were delighted to see the new pupils' toilets which were built since our last visit in October 2019. They blend into the school buildings and environment very well.
Water Tanks
Mathew is concerned that during the rainy season the 500 litre tanks harvesting water from the roofs fill rapidly and then overflow leading to a significant loss of water.
He suggested that the 500 litre tanks could be replaced with 1000 litre tanks. We took advice on this proposal from our friend Mike Scott whose house near the school has an impressive array of interconnected tanks. After much thought and discussion, it was agreed to introduce an overflow system whereby the excess water would be piped to additional 500 litre tanks that could be in a location where it was most needed. A simple but important change that will double the storage capacity while making water available in those places where it is most needed.
A Water Incident story
During the tenure of the former headmaster, we were sent photographs of a tractor with two large water bowsers parked in the school compound on a Saturday night! On his arrival, Mathew Munyi, the new headmaster asked that the school gates be closed and locked at night. The very next morning he received an anguished telephone call from a local building contractor complaining that his tractor had been locked in! It transpired that the former headmaster had made a deal to supply the builder with water from the school borehole! Any agreement with the builder has now been terminated. A retrospective payment was made by the new neighbour who was not aware that School water being used in the construction of his house.
The Garden
The School looks very beautiful with flowers blooming in the beds alongside the classrooms and amongst the trees which are now flourishing. Just walking in the School grounds is an uplifting experience.

The vegetable garden is very productive (despite the elephants – see below!) with good crops of kale, cabbage, onions, bananas, passion fruit, beans and other nutritious plants used to supplement the children's diet.
There is a tree nursery which will eventually offer saplings to the local community.
However, Mathew has made important changes to involve the children as gardening and agriculture are now part of the new Kenyan curriculum. Each class has responsibility for tilling, sowing, watering and harvesting a particular patch of land. The gardener, Dan has been redeployed to focus on the maintenance of the buildings, fences and landscaping of the School compound.
Elephants in the Garden

During our visit five clever elephants used their tusks to push through the electric fence and enter the school garden at the dead of night! They ate some bananas, many onions and other vegetables and damaged some trees before being chased away by the teachers and security guards. And to add insult to injury, when we returned to our room at Ngiri House some ten miles away there was no water…. the elephants had broken in and destroyed some water pipes. Thanks to the security and effective anti poaching measures, there are now a large and growing number of elephants who have worked out that they are safe in the Lewa and Borana conservancies.
A Classical Performance

We were delighted to be invited to lunch by some new neighbours, Sophie and Peter Kinyua who introduced us to Elizabeth Njoroge, the founder of Ghetto Classics and the Kenyan Youth Orchestra. Sophie and Elizabeth are keen to develop a classical music programme at Enaikishomi and we agreed to support this venture by constructing a new music and arts centre. During our visit we were treated to a cello concert by a friend of Elizabeth, Robert Howard and three of her pupils from the ghetto in Nairobi. The Enaikishomi children had never seen anything like this before and were transfixed!
Innovation in Teaching
Our neighbours, Sophie and Peter Kinyua kindly donated three spectron screens which were supplemented by a further four screens funded by the Amy Elgar Trust, making a total of seven in all. These herald a revolution in teaching. The blackboard is now redundant!
Spectron is linked to the internet and teachers can download educational materials from anywhere in the world. It is also linked to tablets available to the children.
The Lewa digital trainer, Jackie has done an excellent job enabling the teachers to use this new technology to its full extent. We will be funding a booster box so that the Wi-Fi signal reaches all of the classrooms.
The Nursery Class
Mathew plans to install a sandpit and swings for the many very young children who come to the School. He is also planning to install some rabbit hutches and rabbits. He thinks the children will enjoy caring for and interacting with live animals and this could be therapeutic for those children with psychological problems as a result of poor deprived family backgrounds.
Mathew will be offering an unpaid internship to a student attending a teacher training college in Nairobi. The intern will gain valuable teaching experience as well as giving support to the nursery teachers. Enaikishomi is well placed to have interns who can have good safe accommodation within the compound…. something that is not available at many other schools.
Extra curricular activities
There are many after school clubs including science, chess, art, music, agriculture, environment, gardening, wildlife, choir. Mathew is keen to have a competition (to be judged by the teachers) with the best club being rewarded with a day trip to the spectacular Thomson Falls at Nyahururu. The AET has agreed to fund this prize.
As result of covid there have been no football matches for a long time. However, many teachers have fond memories of the coaching provided by our friend Bob Reeves over two years ago. It is encouraging that one of the new teachers Martin Muriongi is a rugby player (a winger). The new rotas for cleaning and feeding mean that there are no longer large groups of children milling around, looking for something to do.
Tailoring Class

The tailoring class has prospered and we will shortly be replacing the tutor who left recently for a job at a local Polytechnic. There are now ten Singer sewing machines in use.
Mathew himself wears a well fitted red long sleeved shirt and grey trousers on Mondays and Fridays, an excellent advertisement for the class.
Our new neighbour Sophie Kinyua is keen to support the tailoring class and may purchase new uniforms for the staff at her home near the school. There is apparently an excellent tailor at the nearby village of Ethi who by all accounts would be ideal for the school.
A new Dining Room/Sports Hall
This has been on the agenda for a long time and we are pleased that it is supported by the new Headmaster, Mathew. The dining hall will be linked directly to the kitchen and will be designed with a dual purpose to serve as a sports hall. This project is timely as our new neighbour Sophie Kinyua (who owns a restaurant in Nairobi) is keen to help develop courses in cookery and domestic science.
Fuel for the kitchen stoves
Mathew is concerned that in years to come the government may prevent people from collecting wood in the forest. This measure would help to deter charcoal burning and serve to protect the trees. However, it would make it impossible for the children to collect firewood for the kitchen stoves. To forestall difficulties in the future, Mathew is keen to explore a Biogas system that would be powered by animal dung. More information on this innovative technology can be found at http://www.biogas.co.ke
Meeting of The Board of Management (BOM)
The meeting was chaired by Mathew Munyi who has a policy of restricting meetings to one hour.
Concern was expressed for a girl who as a result of being abused and beaten at home had attempted suicide. We were very impressed to learn that Mathew had visited the family and arranged for her, as a temporary measure, to attend a boarding school. However, he appreciated that this was not the perfect solution as she was eager to return home. The community will try to help the family.
There was a discussion about the advisability of having bees in the garden to deter the elephants. It was decided not to go ahead as African bees are very aggressive and could attack the children. In addition, the next door neighbour, Caroline Thouless is very allergic to bee stings.
There was a reading of a long letter from Dan the gardener detailing every aspect of his work and requesting the assistance of a casual worker. A member pointed out that Dan was exaggerating the pressures on his time as some of his duties (such as the pruning of trees ) took place once a year. It transpired that every day Dan left work an hour early at 3.00 p.m. as he had an agreement to transport some children on his motorbike to the nearby village of Ethi. After some heated discussion (especially from Sandy Elgar) it was agreed to support Mathew who has a plan to reorganise Dan's workload and manage his time more carefully.
It is noteworthy that the Chairman, appointed by the previous Headteacher, made no contribution at all to the meeting. There will be an "election" for a new BOM in March and candidatures have already been submitted for vetting by the government. However, we were impressed by the BOM and think that it will make an important contribution under the leadership of Mathew Munyi.
The School and the Community
During our visit, there was some excitement as a lorry arrived from Lewa packed with bags of beans, rice, maize etc.
It is difficult to overstate the importance of the feeding programme in an area recently affected by severe drought. We were told that many of the children do not have enough to eat at home.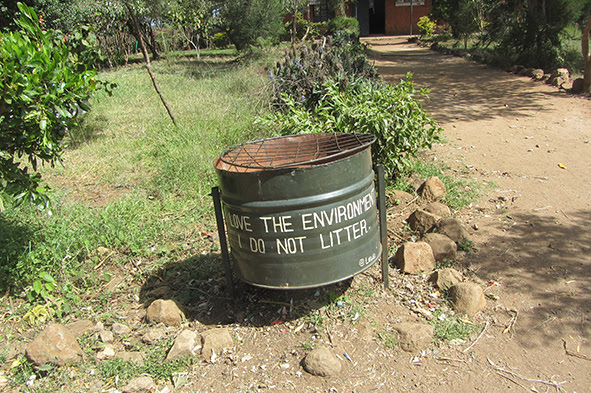 With the support of Lewa, the school environmental club will approach the owners of a bar and shop opposite the School and provide them with steel litter bins, similar to those already within the School compound, for the disposal of bottles and other rubbish that disfigures the road alongside.
There is also a plan to install speed bumps and signs to encourage the traffic (mostly motorbikes) to slow down near the School. We were encouraged to learn that the local government school at Ethi is improving and hope that this will reduce the number of children wishing to attend Enaikishomi. The school now has 278 pupils.

With best wishes
Edward and Sandy Elgar
Trustees of the Amy Elgar Trust
Charity Registration No.: 1144222